You progress through Magia Record by battling through story quests. The game uses a turn-based combat system, where the player always goes first.
When you first enter combat, this is the screen you see (hover over the image to see what different areas are):
Discs
For a detailed explanation of discs, see main article: Discs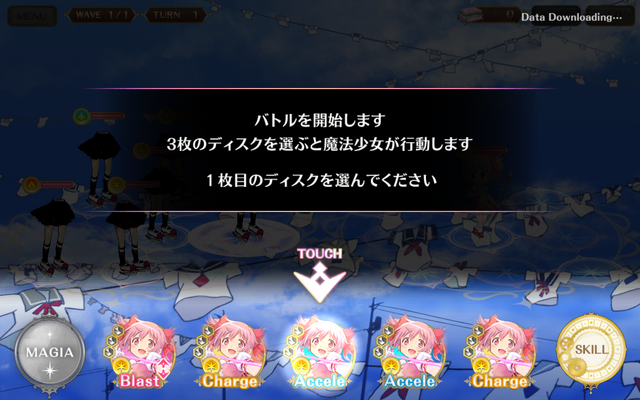 Discs are your main attacks. Every Magical Girl in the game has a set of 5 discs assigned to them, and each turn 5 random discs are chosen from your team's disc sets.
You must then choose 3 of these discs to attack with. Click on an opponent to target it, then click on a disc to queue the attack. You can attack different opponents with each disc.
There are 3 types of discs:
| Image | Name | Effect |
| --- | --- | --- |
| | Accele | Does damage to 1 target and fills up your MP Gauge |
| | Blast | Does damage to up to 3 targets in either a vertical or horizontal line. While Blast discs do less damage per target than Accele or Charge, they allow you to hit multiple enemies. |
| | Charge | Does damage and builds up charge. Charges builds up until you select another disc, which results in a Charged Attack. These do more damage and build up more MP based on the amount of charges. |
Elements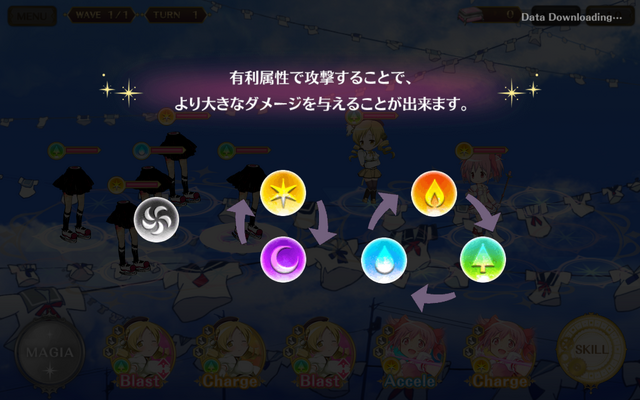 All Magical Girls and opponents in the game belong to one of 6 elements. When choosing your team and discs, consider elemental strengths and weaknesses. When fighting against a strong element, you will do more damage and receive less in return. Conversely, you will deal less damage to your weak element and receive more damage in return.
When a girl is strong or weak against a particular target, an arrow will appear next to their disc indicating if they will deal more damage or less.
Note: Light and Dark are weak to each other - they will deal extra damage to each other, but will receive extra damage in return as well.
Combos
Whenever you pick your attack discs, you should keep combos in mind.
Puella Combo: All 3 discs are from the same Magical Girl, allowing her to deal more damage
Accele Disc Combo: All 3 discs are Accele Discs, granting every girl on the team 20MP.
Blast Disc Combo: All 3 discs are Blast Discs. Each successive disc does more damage, with the 3rd disc being the most powerful.
Charge Disc Combo: All 3 discs are Charge Discs. Builds an automatic 2 charge, increasing by 1 for each disc used up to a max of 5 charge.
Connect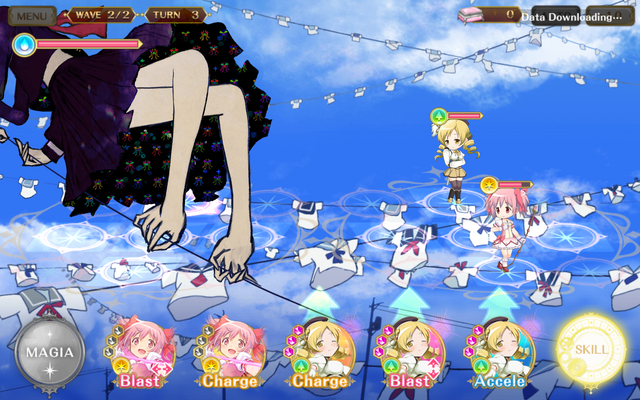 When a Magical Girl has attacked 3 times, she is able to Connect to another Magical Girl. To use a Connect, hold and drag the disc from 1st girl (the one with the Connect available) over the 2nd girl (the girl who will receive the Connect) and release. When this happens, the 2nd girl will attack instead, but will gain bonuses based on the 1st girl's Connect. These bonuses remain in effect for the entire turn.
For the purpose of a Puella Combo the Connect Disc counts towards 'both' girls.
Example: In the picture above, Tomoe Mami's Connect is available and can be dragged onto Kaname Madoka. This means that Madoka will gain the bonuses from Mami's Connect, and she will attack instead of Mami.
If 2 more Madoka discs are then selected, it will be Puella Combo for Madoka.
If the Connect disc is the first disc, then all 3 of Madoka's attacks will be boosted.
If 2 Mami discs are selected instead, it will be a Puella Combo for Mami. Mami's attacks will not be boosted by the Connect.
Skills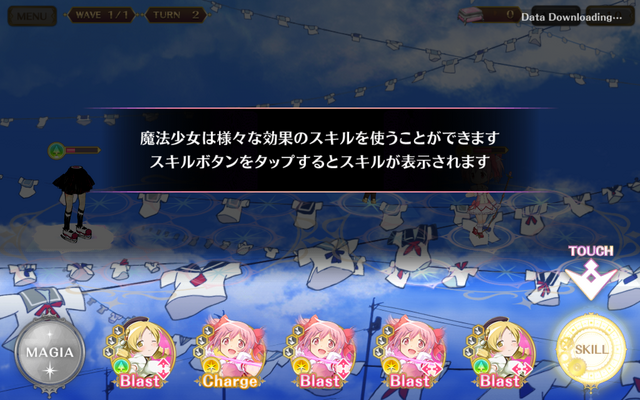 Before you enter battle, you can equip your Magical Girls with Memoria. These grant either a passive ability (always in play) or an active skill (must be switched on) bonus.
When in battle, you can activate skills to give your team a short-term edge. There can be a boost to a character, a debuff to an opponent, or both.
Be warned - skills come with a cooldown, during which they can not be used.
(Hover over this image to see translations)
Once a skill has been used, it enters cooldown.
Magia
When a Magical Girl's MP Gauge reaches 100, she is able to unleash her Magia. This is a more powerful attack that may inflict status effects on opponents or boost the strength of allies.
5* Magical Girls have the extra ability to summon a Doppel when their MP gauges reach 200. These represent the ultimate attacks, dealing large amounts of damage and granting powerful bonuses.
Note: Magia and Doppel discs do NOT count towards Puella Combo. However, having 3 Magia or Doppel discs selected has the same effect as a Blast Combo, with each successive Magia or Doppel dealing more damage.
Enemy Turn
The second half of the turn is the enemy's turn. Basic enemy attacks follow the same general rules as player attacks with a few tweaks:
While the enemy can use up to 3 discs per turn, most basic opponents only have 1 disc. If there are fewer than 3 opponents on the field, you may only be attacked once or twice.
Most basic enemies do not have MP gauges
Most basic enemies do not build up Charge
Most basic enemies cannot Connect
Enemies can use Skills that are not normally available to the player, and may use them with no cooldown.
Boss Fights
There are several boss fights throughout the game, usually in the form of witches, rumors, or other Magical Girls.
Unlike basic enemies, bosses can attack up to 3 times per turn. They usually have a lot more HP and deal significantly more damage.
Magical Girl bosses may be able to access the MP gauges and deploy their Magia or Doppel, Connect to other enemies, or build up Disc Combos.
A weakness of some bosses, however, is the fact that they take up several squares, meaning that Blast, Magia, and Doppel attacks will hit them more than once.
Auto & The Battle Menu
(Hover over this image to see translations)
From the battle menu you can review your mission objectives, quit the battle, or amend the behaviour of the Auto Mode.
Auto mode is available on the Main Story for all players, and on other story quests after they have been completed at least once. While it simplifies the game and makes tasks such as item farming easier, it should not always be relied on - the Auto mode is notoriously bad when it comes to its disc selection and skill use.
From this menu, you can select when Auto mode uses skills, connects, and Magia.
Community content is available under
CC-BY-SA
unless otherwise noted.